ABC Doll Club
PO Box 936
North Lakes QLD 4509
---
ABC Doll Club Inc - Join and Win!
Membership Drive 2015 - 1 April to 31 May 2015 inclusive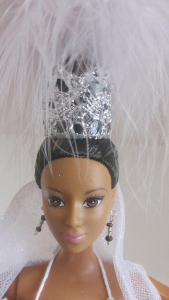 Anyone joining the ABC Doll Club or re-joining between 1 April and 31 May inclusive will go into a draw to win a specially created convention table doll from the ABC Doll Club convention in 2011. Your doll will be Inika from Waikiki, Honolulu in Hawaii, USA - a Casino Showgirl who was one of the dolls created for the Gala Evening event as a table doll. She is dressed in white/silver sequinned bikini with a feather headdress and twinkle tulle cape. Her shoes are decorated in feathers and she has chain and bead jewellery especially created for the outfit.

Our club: We are a fashion doll club in Australia, whose members collect (mainly) 11-12 inch fashion dolls with a focus on Barbie&reg. All fashion dolls are welcome, however, whether modern, mod or vintage!

Meetings are held regularly in Brisbane, Sydney, Newcastle, Melbourne and Adelaide but most members keep in touch via the website, forum, Facebook, bi-monthly newsletter and biennial convention. Financial members receive the newsletter, may join the forum and attend meetings & convention and membership is very reasonable. Full membership yearly, per person is AUD$35 (Australia based) and international is AUD$45 per person (other membership types available).

For more details about membership go to our Join the Club page

2015 is an exciting year for us with our Mod convention in September! Join now and be in the draw for &quotInika&quot - a custom showgirl table doll from the 2011 Queensland convention held in Surfers Paradise. The draw for this exciting doll will be held after May in the first week of June and announced on Facebook/Forum/Webpages and in the newsletter July/August edition. (Doll Donated by Cheryl Cambridge, Convention Chair in 2011.)
You can see further pictures of Inika here - click on last uploads for the most recent pictures
---
Do you need some inspiration for what to wear and how to wear it?
Get the look to be part of our Mod Squad!
Just over six months before we go-go to Sydney

for

Mad for Mod!
An exciting weekend is in the planning and Cavalcade of Fashion will be playing a part.

Here's a taste of what is in store for us - Mod Fashion

You will have to be there or be square...
Member dues are now requested for all those who wish to be an official member of the club and also for those attending this year's convention

Click here for membership details

See below for Convention information and registration
---
---
Mattel Warehouse Sales
Our VIC group has organised 4 Mattel Warehouse Sales sessions during 2015 for club members and others who may be interested. These take place in Derrimut, VIC and are fundraisers for the groups who take part.

Go to our Calendar of Events for dates and contact details
---